Greens Coach K Camp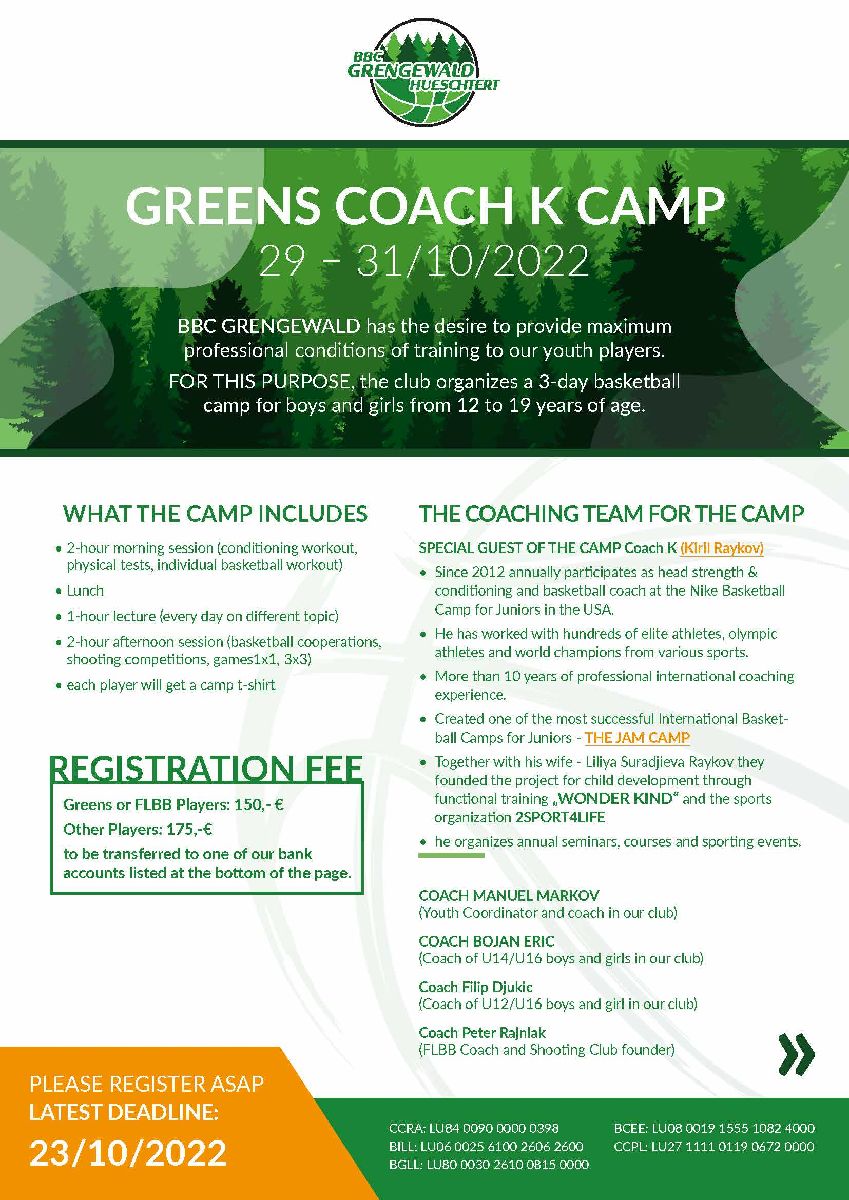 3-day basketball camp for boys and girls from 12 to 19 years of age!
THE COACHING TEAM FOR THE CAMP:
-          SPECIAL GUEST OF THE CAMP Coach K (Kiril Raykov)
-           SINCE 2012 ANNUALLY PARTICIPATES AS HEAD STRENGTH & CONDITIONING AND BASKETBALL COACH AT THE NIKE BASKETBALL CAMP FOR JUNIORS IN THE USA.
-           HE HAS WORKED WITH HUNDREDS OF ELITE ATHLETES, OLYMPIC ATHLETES AND WORLD CHAMPIONS FROM VARIOUS SPORTS.
-           MORE THAN 10 YEARS OF PROFESSIONAL INTERNATIONAL COACHING EXPERIENCE.
-           CREATED ONE OF THE MOST SUCCESSFUL INTERNATIONAL BASKETBALL CAMPS FOR JUNIORS - THE JAM CAMP.
-           TOGETHER WITH HIS WIFE - LILIYA SURADJIEVA RAYKOV THEY FOUNDED THE PROJECT FOR CHILD DEVELOPMENT THROUGH FUNCTIONAL TRAINING "WONDER KIND" AND THE SPORTS ORGANIZATION 2SPORT4LIFE.
-          HE ORGANIZES ANNUAL SEMINARS, COURSES AND SPORTING EVENTS.
-          Coach Manuel Markov (Youth Coordinator and coach in our club)
-          Coach Bojan Eric (Coach of U14/U16 boys and girls in our club)
-          Coach Filip Djukic (Coach of U12/U16 boys and girl in our club)
-          Coach Peter Rajniak (FLBB Coach and Shooting Club founder)
Registration Fee:
Greens or FLBB Players: 150,- €
Other Players: 175,-€