The Greens go Phantasialand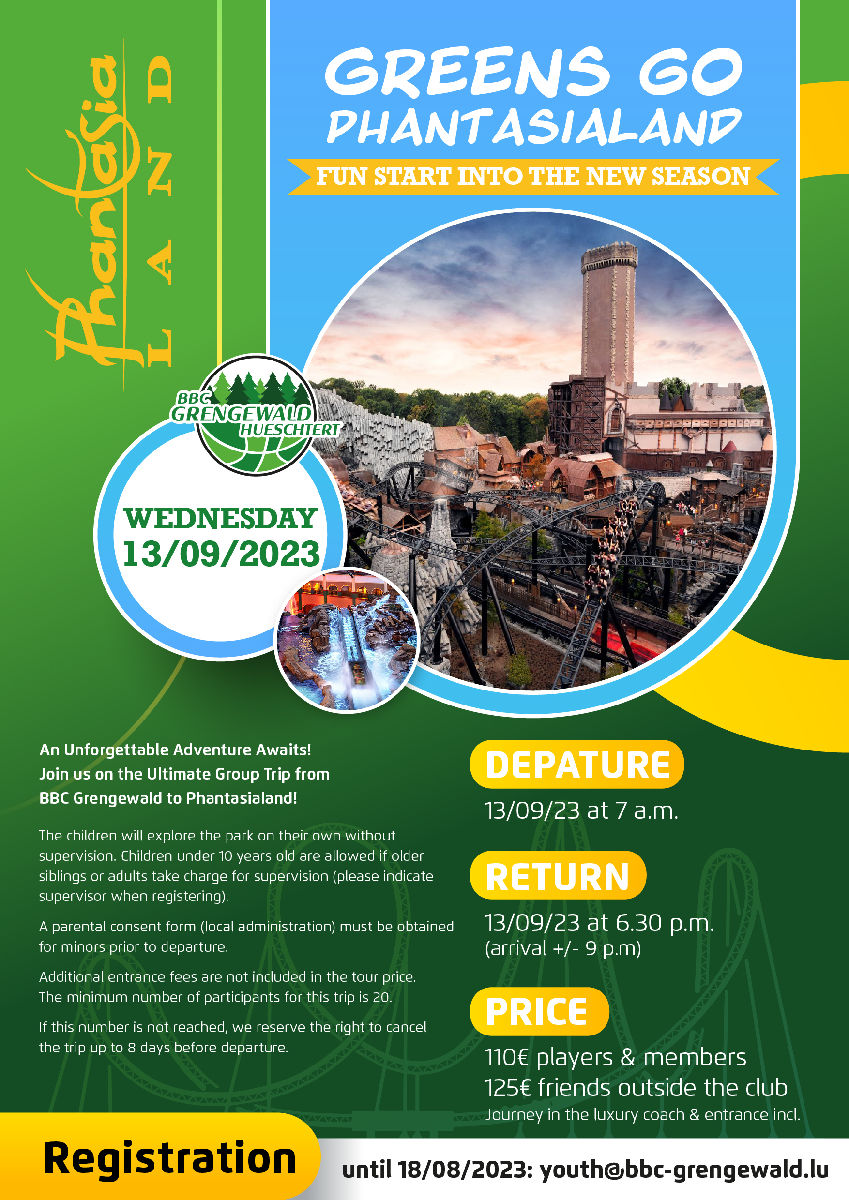 An Unforgettable Adventure Awaits! Join us on the Ultimate Group Trip from BBC Grengewald to Phantasialand!
Dive into a world full of magic, excitement, and fun, and experience an unforgettable day at Phantasialand with us. Our group trip promises thrills, unforgettable moments, and a lot of camaraderie!
Why You Can't Miss This Group Trip:
1.      Action-Packed Attractions: From the breathtaking "Taron" - one of Europe's fastest and longest multi-launch coasters - to the enchanted world of "Chiapas," the wild water adventure, Phantasialand's attractions have something for everyone's taste.
2.      Magical Themed Areas: Travel with us through fascinating themed worlds, such as "Fantasy" with its legendary castle and fairytale "Wuze Town," to the exotic settings of "Mystery" with the popular roller coaster "Black Mamba."
3.      Experience Togetherness: Whether you come with friends, family, or alone, our group trip from BBC Grengewald creates a warm and friendly atmosphere where you can make new connections and create unforgettable memories.
4.      Convenient Transportation: We take care of the organization and transportation, so you can focus entirely on the adventure. No worries about parking or traffic stress - sit back and look forward to an amazing day.
When and How You Can Join:
The group trip from BBC Grengewald to Phantasialand will take place on 13/09/23. To be part of this unforgettable adventure, simply sign up with our team at youth@bbc-grengewald.lu , and secure your spot for this fantastic experience!
Pack your excitement and let yourself be enchanted by the magic of Phantasialand. We are excited to spend a day full of fun, action, and shared experiences with you. Be a part of this group trip, and create memories that will last a lifetime!
Please note that the number of seats is limited, so don't hesitate for too long and secure your spot for the group trip! We're looking forward to having you on board!