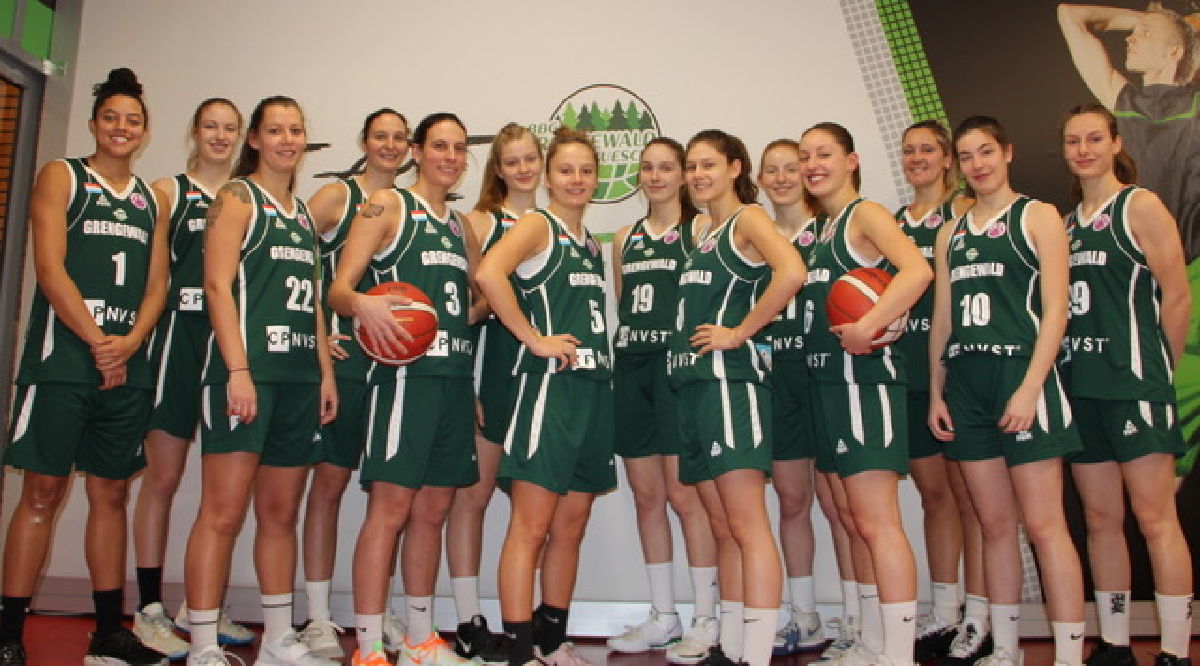 Dames A
History begins now
The first-time participation in the European Cup is a big step and should not be the last.
If you look at the history of the Luxembourg clubs in the Eurocup Women (formerly Ronchetti Cup) over the last 30 years, you can see what it means to play internationally. From a total of 46 matches, we've had three wins and 43 defeats (all results can be found at the end of this article) with teams from Luxembourg. 
Also on the participant lists from the Luxembourg perspective, you can see the immense challenge that we are all facing together as a country. The last Luxembourg club that took part on its own was Résidence Walferdange (season 01/02). The three following participation was in the seasons 06/07, 07/08 and 08/09 with BBT Ros Casares Letzebuerg/EXMA BBTL Letzebuerg which were played by a team that was put together by several clubs under the leadership of the FLBB.
Fun fact: in the season 07/08 Lisy Hetting participated as 17 years old at that time! She could not play the 08/09 season due to injury.


Résidence Walferdange was the team that had 2 of the 3 wins. In the 00/01 season, the Portuguese team "City of the World Santarém" was defeated twice at home (50-43 and 70-44). Sparta Bertrange achieved the third victory in the 91/92 season against the Belgian team EOS Diest Dames (61-55).
And now, after 12 years of international Luxembourg abstinence, our team is competing on the international stage for the first time in the club's history! And it should be the beginning of a tradition.
We are well aware of how big the task is in sporting, economic and organizational terms - we want to succeed internationally in long term and establish the club on this level as well. We want to make the next step possible for our players, show the young players ways and set exciting goals. We want to motivate the whole club to work our way. We want to represent the community and its name internationally and we want to offer sponsors a platform which they can only have with us! In summary: we want fun and success for all!
But yes, we are consciously realistic. We have already learned what organizational efforts are necessary - even more so in a pandemic! We have already learned what great effort is necessary to manage financially - even more so without spectators this season! We have managed to finance our appearance externally, without having to use any membership fees! And we are currently learning what sporting effort is required and what tasks we are facing!
Basket Namur Capitale is an international house name! The team has been playing European games for decades and even has a tradition in the Euroleague. Led by the current Belgian national player Hanne Mestdagh (Belgium qualified for the Olympics with the women and is now ranked 7th (!) in the world ranking list), a fully professional, international top team presents itself:
MESTDAGH Hanne, SG, 178cm, BEL
OGUN Kamilla, SG, 188cm, RUS
VIANA Ines, PG, 166cm, POR
KUNAIYI Pallas, PF, 188cm, NIG
RANGE Courtney, PF, 190cm, USA
SORIANO Cristina, C, 196cm, ESP
O'SULLIVAN Nora, PG, 170cm BEL
And Namur, with 111,000 inhabitants, is not a small town either.
That is what awaits us. A huge challenge. In addition, we are struggling with our training situation and that we don't have any games - Namur will play in Mechelen on December 12th, because the season starts again in Belgium. 
Despite all these odds: we as a team and as a club are looking forward to this game! And no matter how it will end, it is the first step on our international tow. History begins now!
____________________
Here are the results of Luxembourg women's teams at the international level from 1990 to today: 
Eurocup Women ECW
Season 08/09
BASKET BALL TEAM ROS CASARES LETZEBUERG
01.10.08 vs Arvi Marijampole [L] 52-86 (H)
09.10.08 vs Arvi Marijampole [L] 45-80 (A)
Season 07/08
BASKET BALL TEAM ROS CASARES LETZEBUERG
07.11.07 vs Lattes Montpellier agglomeration [L] 57-86 (H)
14.11.07 vs Baloncesto San José [L] 44-84 (A)
21.11.07 vs Umana Reyer Venezia [L] 39-108(A)
28.11.07 vs Lattes Montpellier agglomeration [L] 54-85 (A)
05.12.07 vs Baloncesto San José [L] 60-84 (H)
12.12.07 vs Umana Reyer Venezia [L] 63-80 (H)
Season 06/07
BASKET BALL TEAM ROS CASARES LETZEBUERG
08.11.06 vs Acis Incosa Leon [L] 42-77 (H)
16.11.06 vs Tarbes GB [L] 57-106(H)
23.11.06 vs Cras Basket Taranto [L] 57-90 (A)
29.11.06 vs Acis Incosa Leon [L] 60-83 (A)
07.12.06 vs Tarbes GB [L] 46-102(A)
13.12.06 vs Cras Basket Taranto [L] 45-78 (H)
Ronchetti Cup
Season 01/02
BBC RESIDENCE WALFERDANGE
17.10.01 vs Halcon Viajes Alba [L] 42-108(A)
24.10.01 vs Halcon Viajes Alba [L] 57-83 (H)
Season 00/01
AB CONTERN
17.10.00 vs BCSS Namur [L] 62-88 (H)
25.10.00 vs BCSS Namur [L] 54-88 (A)
BBC RESIDENCE WALFERDANGE
15.09.99 vs City of the World Santarém, POR [W] 50-43(A)
23.09.99 vs City of the World Santarém, POR [W] 70-44(H)
13.10.99 vs Caja Rural [L] 45-80 (H)
20.10.99 vs Aix en Provence BB [L] 28-102(A)
11.11.99 vs Caja Rural [L] 49-99 (A)
17.11.99 vs Aix en Provence BB [L] 30-95 (H)
Season 99/00
AB CONTERN
17.09.98 vs CAB Levi's [L] 49-99 (A)
23.09.98 vs CAB Levi's [L] 57-69 (H)
BBC RESIDENCE WALFERDANGE
16.09.98 vs BK Blex [L] 47-64 (H)
23.09.98 vs BK Blex [L] 43-66 (A)
Season 98/99
AB CONTERN
11.09.97 vs CAB Levi's [L] 60-73 (H)
18.09.97 vs CAB Levi's [L] 62-78 (A)
BBC RESIDENCE WALFERDANGE
10.09.97 vs CD Nacional [L] 69-74 (H)
17.09.97 vs CD Nacional [L] 51-88 (A)
Season 95/96
BBC RESIDENCE WALFERDANGE
07.09.95 vs Mini-Flat Dames [L] 49-69 (H)
13.09.95 vs Mini-Flat Dames [L] 48-74 (A)
Season 94/95
BBC RESIDENCE WALFERDANGE
28.09.94 vs CJM Bourges Basket [L] 38-102(H)
05.10.94 vs CJM Bourges Basket [L] 26-113(A)
Season 93/94
BBC Sparta Bertrange
29.09.93vs BC uniVersa Marburg [L] 51-76 (H)
06.10.93 vs BC uniVersa Marburg [L] 48-81 (A)
Season 92/93
BBC Sparta Bertrange
30.09.92 vs EOS Diest Dames [W] 61-55(H)
07.10.92 vs EOS Diest Dames [L] 68-72 (A)
28.10.92 vs. basket Astarac [L] 53-66 (H)
04.11.92 vs. basket Astarac [L] 26-87 (A)
Season 91/92
BBC Sparta Bertrange
02.10.91 vs Lotus Munich [L] 59-78 (H)
09.10.91 vs Lotus Munich [L] 41-77 (A)
Season 90/91
BC Sporting Luxembourg
26.09.90 vs CHALLES-LES-EAUX BASKET [L] 47 - 119 (H)
03.10.90 vs CHALLES-LES-EAUX BASKET [L] 38 - 98 (A)
TOTAL: 46 games, 3 wins - 43 losses