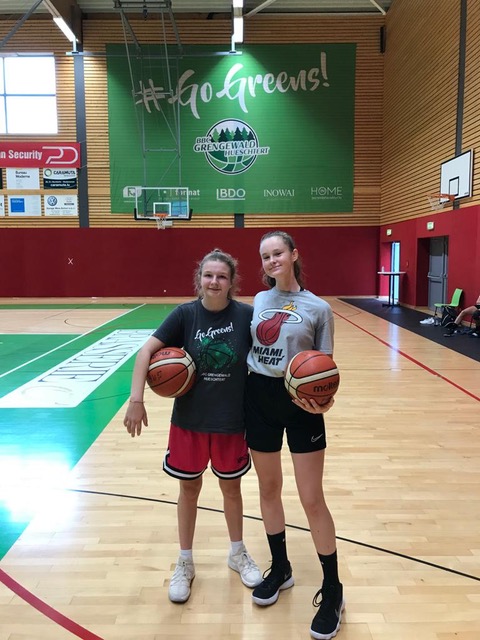 Elinor & Ann
Motivation by Elinor & Ann
Our names are Elinor and Ann and we are both 15 years old. We have been playing basketball in Grengewald for over 6 years now and are currently playing in the u19. In addition to this, Elinor also plays in the u18 national team.
Since the beginning, we've had a great relationship with the whole club. There were never difficulties in communication and understanding and the relationship between coaches and committee to players has grown ever since.
We've always been taught to be good players but even better people. As a result of this attitude, we have decided to get more involved in the club. In the u14's we used to wipe the floor at senior games, film matches and help clean the gym afterwards. We enjoyed helping other people a lot, all while expanding our communication skills within our local club and people. For the past three/four years we have taken over a pretty big role in Grengewald. Currently, we are doing the points, the clock and the statistics at the senior games, take part in organizing and helping at events (e.g. Nuit du Sport, Schnuppercamp, Schoulsportsdag, etc). Two years ago we have been asked to help around at the Minibasket and ever since we have been coaching the u10's. Since this year, both of us have learnt to become good referees, by emphasizing fair play and respect towards opponents.
Our motivation throughout all these times has been to pass on our knowledge which we have received from our coaches to others, especially younger people. We have come a long way in our basketball career, even if it's not by being the best players and achieving the most. We want to motivate other people to become better in everything they do. It's not about winning, it's about learning. And this is what we want to prove to others. We use these chances to develop as a player, a coach and a person. In this fun way, we expand our horizon in basketball, communication, understanding and learning. These are all important and useful things to know in our later life. Basketball currently plays a large role in our lives and we hope to continue in this way.
We are beyond thankful for all the opportunities and trust we have received from the club and we hope to learn more. So we'd like to take a moment and say thank you to the whole committee that has trusted, taught, helped and supported us during these past four years.
/ Elinor & Ann